j0mbie Ping Test | Crypto Honeypot
j0mbie Ping Test
j0mbie Ping Test (formerly JD's Ping Test) is a very simple ping test program. No ping test had all the features i was looking for, so I made my own. Scroll past the screenshots for the downloads.
FEATURES:

Multiple concurrent tests.
Outputs tests to log file.
Log file is tab-seperated, meaning it can be opened directly in Excel or Calc.
Adjustable timeout.
Adjustable delay.
Tests are pausable.
Default settings can be saved in an .ini file.
Free for personal and business use. Public redistribution requires permission.
No ads or other nagging prompts.
Very lightweight, much like this basic website
SCREENSHOTS: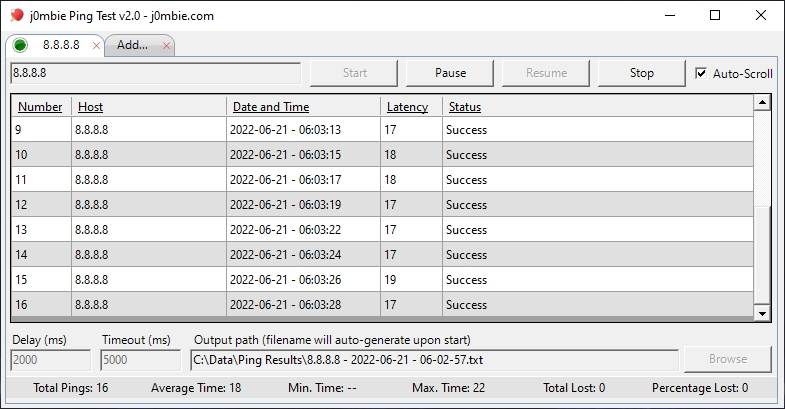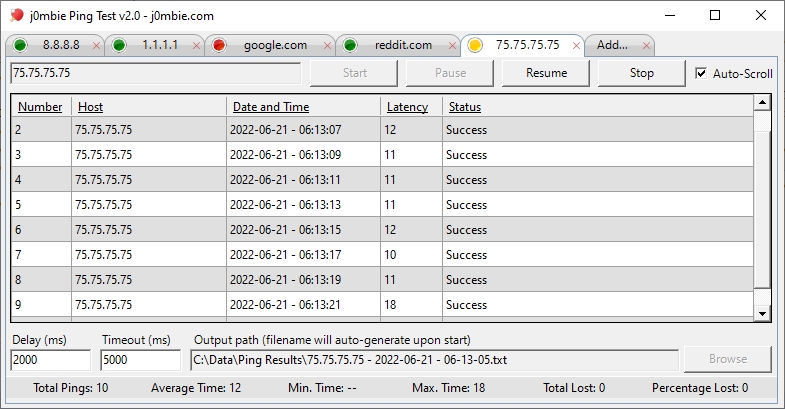 DOWNLOADS:

PREVIOUS VERSIONS:

HELPFUL INFO AND TIPS:

Various ping destinations, and internet equipment between you and the destination, will drop pings for a number of reasons. The likeliness of this increases with lower Timeout and Delay values.
Generally, a good rule of thumb for pings across the internet is to go no lower than 1000 ms Delay, and 500 ms Timeout.
These values can be more aggressive for destinations within your own local network, if needed.
This program uses Microsoft's Ping class to generate pings. Occassionally, a ping may fail even if the host replied within the Timeout period. It is recommended you use higher Timeout values than the "threshold" you actually want to see.
Tab-separated .txt files can be opened directly in Excel. Right-click the .txt file, and select "Open With".
When troubleshooting connectivity to the internet, it is recommended to run tests on the following, if available: yourself (localhost), your network switch, your router/firewall's LAN IP, your router/firewall's WAN IP, your modem's WAN IP, and at least three reliable destinations on the internet. Common targets for that include Google DNS, CloudFlare DNS, and your ISP's DNS.
When parsing ping logs afterwards for connection drops, open them all in Excel. Sort the data alphabetically via the Status column (Data → Sort & Filter), then delete all rows with a successful ping. Re-sort via the Number column. You can now compare logs to see when drops occured, and where.
When parsing ping logs for latency issues, you may need to first sort via the Latency column instead of the Status column, and decide on a cutoff point for "successful" ping deletion.
If "j0mbie Ping Test Settings.ini" does not exist in the same directory as the executable, it will be created upon startup. If you have a corrupt .ini file, just delete it and let it be re-created.
There are three options in the .ini file that control how settings are saved and used. Edit the file directly to change it.
CHANGE LOG:

v2.1:

Fixed a bug that would cause issues if a backslash was not appended to the end of the filepath.
Fixed bugs in how the program keeps track of minimum and maximum ping times.

v2.0:

Added ability to save settings in .ini file.
Added ability to resize the application window.
Added status bar along the bottom for running totals.
Added slight change of background color to alternating columns, for easier readability.
Changed default directory to be nested inside C:\Data. I feel this is a better location than directly on the C drive.
Changed to .NET 5.
Created Standalone version (always works) and .NET 5 version (requires .NET 5 runtime pre-installed).
Code-signed application.
Dropped .msi installer, as most people did not need it. To create your own shortcuts, right-click the executable, and select "Create Shortcut".
Bug fixes.

v1.1.4:

Bug fix on certain close actions.
Changed to .NET Framework 4.5.

v1.1.4:
v1.1.3:
WISHLIST:

Get a better icon. Icon donations accepted!
Add ability to run as a service, or to otherwise resume from a crash automatically.
EXTRA INFO:

This program uses the Custom TabControl. It's really a much better tab control than what's in Visual Studio.
This program is freeware. You may not redistribute it publicly without written permission. Beyond that, you may use it personally or within your company however you wish.
This program uses .NET 5. If you use the Standalone version, no framework pre-installation is necessary
I rarely check the email for this site, but if necessary, email me at: JD (at) (this site)