JD's Ping Test | Crypto Honeypot
JD's Ping Test
JD's Ping Test is a very simple ping test program. No ping test had all the features i was looking for, so I made my own. Scroll past the screenshots for the downloads.
FEATURES:

Multiple concurrent tests
Outputs tests to log file
Log file is tab-seperated (can be opened in Excel/Calc)
Adjustable timeout
Adjustable delay
Tests are pausable
Free for personal use
No ads or other nagging prompts
Very lightweight, much like this basic website
SCREENSHOTS: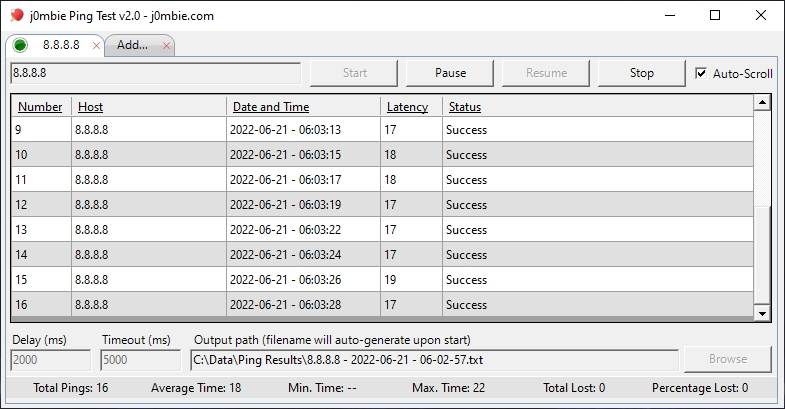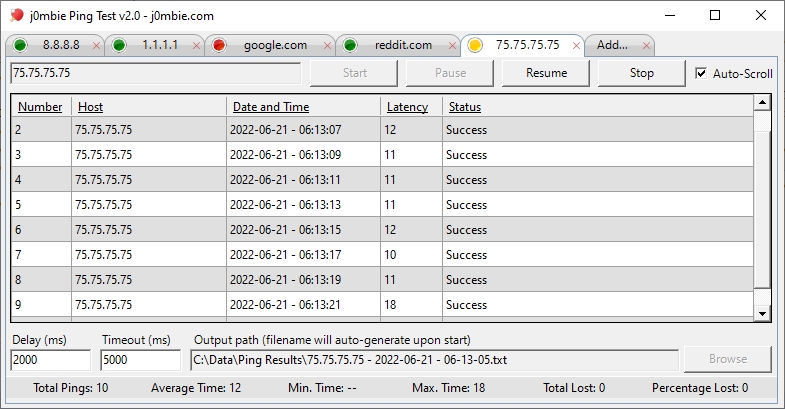 DOWNLOADS:

CHANGE LOG:

1.1.4: Bug fix on certain close actions. Changed to .NET Framework 4.5.
1.1.4: Added IPv6 support.
1.1.3: First public release.
WISHLIST:

Get a better icon. Icon donations accepted.
Add ability to run as a service, or to resume from a crash automatically.
EXTRA INFO:

This program uses the Custom TabControl. It's really a much better tab control than what's in Visual Studio.
This program is freeware. You may not redistribute it publicly without written permission. Beyond that, you may use it personally or within your company however you wish.
This program uses .NET Framework 4.5.
For the time being, I'm not monitoring an email for this program. However, I can be found on Reddit. Username: j0mbie (with a zero, of course.)